Contacting Me
If anyone needs to get in contact with me, the easiest way is just to go ahead and shoot me an email at
Cat.Voleur@gmail.com.
Although I have a couple emails and am on a small selection of social media sites, my gmail is what I check on the most regular basis, and is therefor the most effective method of contacting me.
If for some reason you're really opposed to emailing me, you can fill out the following form instead:
Powered by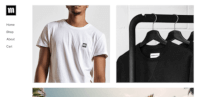 Create your own unique website with customizable templates.